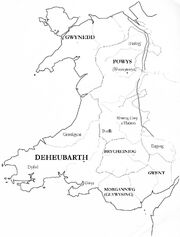 The Kingdom of Powys was a Welsh successor state that emerged during the Dark Ages following the Roman withdrawal from Britain. Based on the Romano-British tribal lands of the Ordovices in the west and the Cornovii in the east, its boundaries originally extended from the Cambrian Mountains in the west to include the modern West Midlands region of England in the east. The fertile river valleys of the Severn and Tern are found here, and this region is referred to in later Welsh literature as "the Paradise of Powys". The name is thought to derive from the Latin "pagus" meaning the country-side, also a cognate of 'pagan'. During the Roman Empire this region was organised into a Roman province, with the capital at Viroconium Cornoviorum, the fourth largest Roman city in Britain.
External Links
Edit
Ad blocker interference detected!
Wikia is a free-to-use site that makes money from advertising. We have a modified experience for viewers using ad blockers

Wikia is not accessible if you've made further modifications. Remove the custom ad blocker rule(s) and the page will load as expected.